DrRoto.com is proud to bring you a free series breaking down profitable betting strategies from Pharoah Analytics!
Parlay betting, and the fusion of potential high rewards and significant risks that it brings, can be a thrilling part of the sports betting landscape. But too often, we fall short on parlays by one leg, or by one play or score. One way to approach parlay betting more strategically is to envision it as managing a pool of bets, meticulously crafting core parlays from your most confident picks. Just as you wouldn't want to get stuck over-drafting one player in fantasy football, it is easier to navigate parlays if you have multiple good options. As the NFL & NCAA football season approaches, let's uncover the art of this approach, to help you increase your ROI. 
The Pool Perspective: More Than Just Numbers 
Think of your potential bets as a pool of options. Instead of randomly assembling parlays, sift through this pool and select the wagers you're most confident in. These choices become your core parlays — smart, calculated combinations designed to optimize your winning chances based on your insights and knowledge. 
Crafting Your Core Parlays: Your Fantasy Team of Bets 
Building a core parlay is akin to hand-picking a dream fantasy team. Each selection is a star player, a pick you have strong faith in: 
Selection Process:

Start by listing all potential bets. From this roster, meticulously pick the ones you have the most confidence in. These are your core bets. 

Combination Strategy:

Pair these core bets tactically, looking for combinations that balance risk and potential rewards. 
Instead of having a minimum set of plays you parlay together, find the ODDS you want to play at. If a Same Game Parlay (SGP) gives you +100, but the data suggests it's highly likely to hit, take it. You will be profitable over time time, if you consistently hit at +100.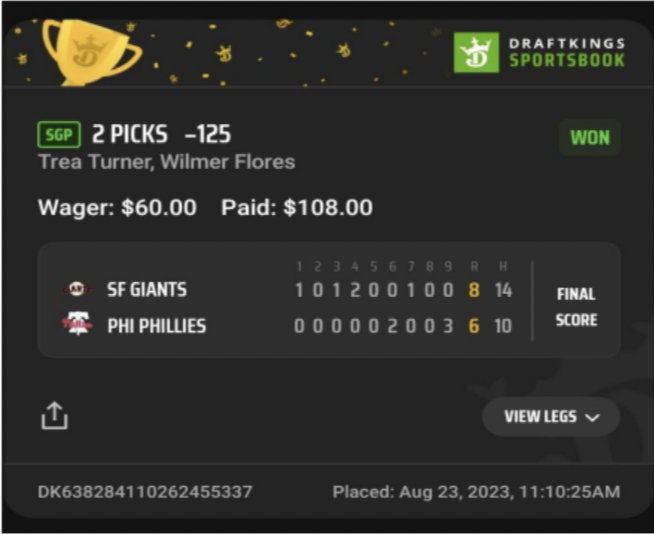 Golden Opportunities: NFL and NCAA Football Division Winners 
Here lies a golden opportunity: parlaying NFL and NCAA football division winners. This type of bet naturally aligns with the pool approach. It involves selecting which teams you believe will win their respective divisions — a longer-term bet that can result in substantial payouts with careful planning. 
Identifying Strong Picks:

Study the teams. Find good data that you can rely on; avoid making selections based off emotions. 

Pairing for Success:

Consider coupling an NFL division winner with an NCAA division winner in your parlay to diversify and spread the risk.

Don't Get Greedy:

Don't let the enticing payout of a long-odds parlay distract you. Take the easy bets that align with your strategy. 
Balancing the Scales: Risk and Reward 
Parlays are synonymous with high risk and high reward. The pool approach is about balance. Assign a fixed percentage of your betting capital to these parlays and adhere to this allocation. It helps you manage the risk while engaging in the excitement of potential big wins. 
Avoid the Pitfalls: Emotions and Overextension 
Pitfalls in parlay pool betting often stem from emotional decisions or overextension in wager size. Steer clear of impulsive choices. Take time to consider each core parlay, weighing the risks and potential rewards comprehensively. 
The Strategic Game of Parlay Betting 
The pool approach to parlay betting — meticulously crafting core parlays from your most confident picks — transforms parlay betting from a mere gamble into a strategic game. Applying this method to big opportunities, like NFL and NCAA football division winners, adds an exciting and thoughtful dimension to sports betting. Currently, a parlay of all eight NFL Division winners can pay out upwards of $37k for every $10 spent. You don't have to bet on just one outcome; bet all your favorable outcomes with a pool of money, and increase your probability of hitting.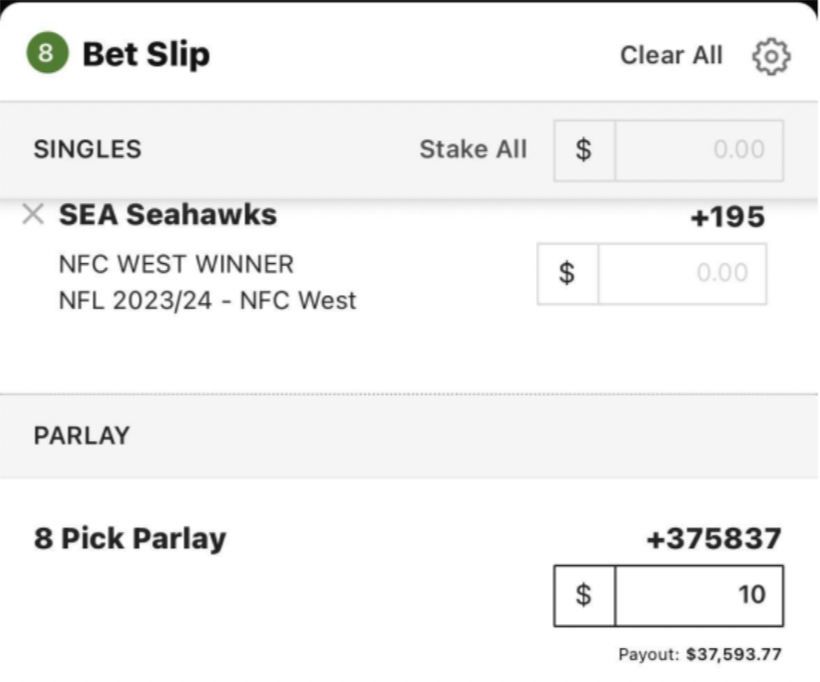 Bet smart, not just big, and let strategy be your guide.