Have you ever wondered what it's like to win the DraftKings Milly Maker? If you're like me, I know you have! I wondered until I struck the Holy Grail on December 4th, 2022. I knew after the morning games that I had a great chance, but you never think it will really happen. I was pacing the floor and couldn't believe it was about to happen. The only player that almost ruined my chances was Tyreek Hill; once his game was over, I knew it was mine! Here is what my winning lineup looked like: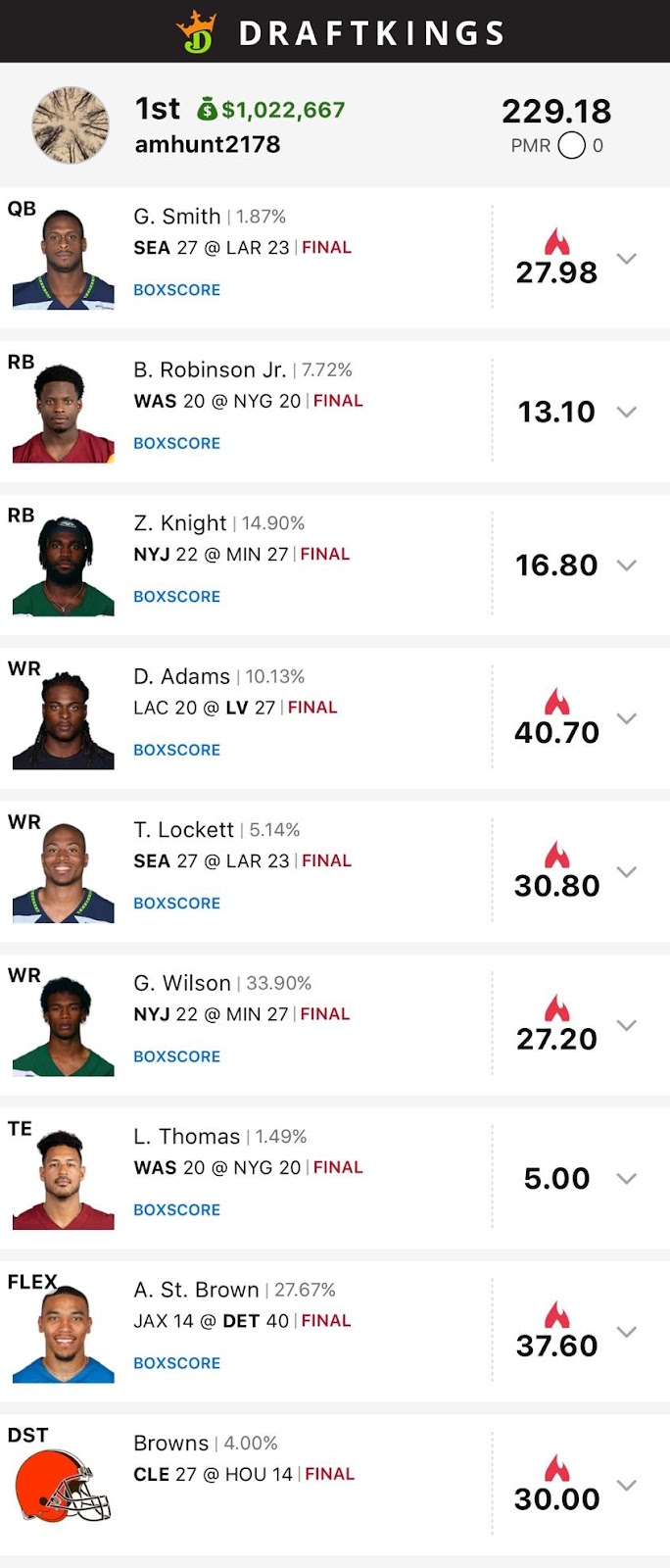 So, you probably want to know how to win it. Unfortunately, there is no one answer. Otherwise, everyone would be doing it, but I have some strategies I would like to share with you. Following these strategies won't guarantee you become a millionaire, but they will give you some guidance and things to think about.
DraftKings Millionaire Maker Strategies
Stacks Are A Must
Stacking is when you roster a QB and another player from the same team, such as a WR, RB or TE. This hugely increases your chances of winning large tournaments like the Millionaire Maker, because if your QB goes off, it's likely one of their teammates did too. Many DFS players like to double stack, but I think it is week and matchup dependent whether that is optimal. My go-to stack is QB/WR. Another strategy for stacking is to use a player on the opposing team as a bring-back. For example, you pair your QB/WR stack from the same team with a player from the opposing team, hoping to get tons of points in a shootout.
Ownership Matters
When I started DFS, I thought cramming in all the chalk guys was going to make me win, but that was not the case. You must pay close attention to ownership. Most Milly Maker winners have at least two players that are rostered under 10%. A lot of players talk about ownership in tournaments, but most percentages don't reflect it. Chalk players offer value, but it is not real value because of the number of other players that roster them. I am not saying you should never choose chalky players, but don't hesitate to fade them when you feel they will underachieve and pick contrarian players when you think they will offer value.
Defense
A defense is the most unpredictable position you will have to roster. With that in mind, pick low-owned defenses when possible; it will give you an edge most of the time. Defenses are volatile, but there is little predictable deviation in their scores; without scarcity, there is little reason to pay up for them. Save the salary for other positions that provide more value.
Value & Contrarian Plays
We are all going to be looking for value on Sunday morning when we are setting our lineups. Value matters, and we want to find as much value as possible. We want at least 4X production at the cheapest price. The little fire symbol on DraftKings means your player has hit 4X value. You will need to be contrarian if you want to find value, especially in large-field tournaments.
WR as Flex
In a big tournament like the Milly Maker, utilize WRs in the flex position to add more ceiling to your lineup. This is all about opportunity. The more opportunities the player has to score fantasy points, the better his chances are to pay off his salary. More touches, more points, it's that simple.
Bottom Line
I can't wait for this season to get rolling, and I can't wait to give my best advice to help you have a chance at the Milly Maker! Make sure to subscribe to DrRoto.com and check out our members-only Discord; I am going to try and be on Discord as much as possible to answer any questions you may have. As always, good luck to everyone!